Last year I was into this battle anime called "Chousoku Henkei Gyrozetter". An anime about cars that can transform into robots (I know that Transformers do that too) but still it was really refreshing watching it. I really like the characters too especially Todoroki Kakeru. So, I decided to go visit Yokohama, which is the main stage of the anime.
I used this chance to go there but I didn't know that Yokohama is so far away from my home. It took about 1 hour 15 minutes by train. I started at Ayase Station (Chiyoda Line), switched trains at Nishinippori Station (Keihintohoku Line) and went straight to Kannai Station which supposed to be the nearest station to the place I wanted to visit, Yokohama Red Brick Warehouse.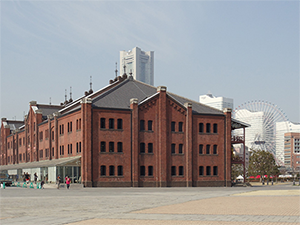 Reporter : TEDJA AGNES MICHELLE
I got out from the station and headed to the warehouse. When I realized it, I was in a street called Bashamichi (Basha means carriage) I was wondering why is that street called Bashamichi and then I saw a horse statue and a horse logo on a payphone. And the buildings there were all western style buildings. The truth is I love western style buildings. It made me remember about my hometown.
And so I arrived at the first place that appeared in "Chousoku Henkei Gyrozetter", the Kannai Hall. I walked past there and I started to smell something. It was the ocean. I could see a ferris wheel from there and when I walked closer I found out that there was an amusement park. Quite a weird place for an amusement park though.
At last I arrived at Yokohama Red Brick Warehouse. It took about 30 minutes by foot. In the anime, Raibird and Prius α battled with Zenon here. There was a small park near the warehouse and it was full of kids that day. And from there you can see the ocean. It was really beautiful.
From there I headed to Yokohama Chinatown. I really didn't think that it was so far. It took me more than 40 minutes by foot. So I took a rest at Yokohama Park which is located next to Yokohama Stadium. I wanted to see a real baseball match at a stadium one day. But for now, just seeing the stadium was enough. Chinatown was actually near the park. It didn't even take me 5 minutes to go there. The Zenrin-mon (I was referring to the gate) in the anime and in real life was so much alike. I walked around the Chinatown and I felt like I was actually in China. Most of the people there spoke Chinese, the restaurants there only served Chinese food and the writings there were all in Chinese characters. It really made my head hurt.
Lastly I went to Yamashita Park. This park is enormous. I had a hard time finding the statue which appeared in the anime. The statue was called the statue of a girl wearing red shoes. Although the real statue didn't actually wear red shoes. This is the place where Satori was lost before coming to Arcadia.
And that was it. I had walked for hours and hours until I couldn't exert any strength left to walk. That's why I decided to go to the nearest station from Yamashita Park which is Motomachi/Chuukagai Station. It was a little further from home than Kannai Station. But it was in the same line so I switched trains in Nishinippori again and went back to Ayase Station.
Yokohama was an interesting place. It has a different atmosphere from the center of Tokyo. It has many parks and you can even see the ocean. My hometown was near the ocean and I didn't visit the ocean since I went to Japan so it felt a little nostalgic. People who are interested in western style building should visit Bashamichi and Yokohama Red Brick Warehouse. Chinese people, people who want to eat Chinese food in Japan should visit Yokohama Chinatown. People who just want to relax could visit the parks. I accidentally met with a stranger who wanted me to read a book but fortunately I acted like I didn't understand what she was saying and walked away. Be careful, if a stranger talks to you, don't talk back in Japanese to them.