Hello everyone! Have you ever heard "The Space Brothers" before?

The Space Brothers is an ongoing manga which started its serialization in 2008 and gained a lot of popularity in Japan throughout these years. Besides anime series, this series also got its anime movie and live-action movie. This caused a lot of attention gathered to this series. As a memorial for this wonderful series, there is a special exhibition of The Space Brothers in The Museum of Kyoto. This exhibition was opened from July until September 2014. Let's take a peek of the inside of this exhibition!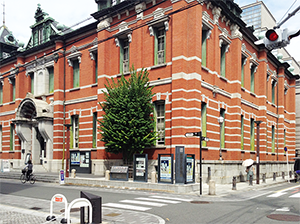 The Museum of Kyotofs Outer Building

WriterFErlin Florence


The Museum of Kyoto
Kyoto-fu Kyoto-shi Chuuou-ku Takakuradoori Higashi Katamachi 623-1
(Around 7 mins by foot from the north of Hankyu Karasuma Station)
Entrance Fee (For Special Exhibition Only) : 700 (Adult)
Time Needed To Explore The Entire Exhibition : Around 2 hours and half
The entrance ticket was very pretty and unique, you can put it into your diaries, etc. Unfortunately, all of the voice guide, explanation, and the movie was displayed only in Japanese. You can spend most of your time in various interesting corners in this exhibition.
There are a lot of displayed corners in this exhibition. Manga's corner, Illustrations' Corner, Photo Booth, Apo's Corner, Message Corner, "Experience It Yourself" Corner, and Goods Shop. This time, I will write about Manga Corner, "Experience It Yourself" Corner, and Goods Shop.
Manga Corner
First Chapter
Original Draft
Illustration of Hibito
As a reader we always see the published form of a manga. However, most of us do not know the process of drawing a manga, and it is really difficult for us to see the original draft of a manga. By seeing the original draft, you will find new things and you will realize even the smallest thing that you haven't been able to realize up until now. There is a pressure comes out from the original draft which cannot be expressed by words. If you are a real fan, you have to see the original draft of manga and experience the awesomeness of the draft by yourself. Seeing original draft is another way to appreciate the creator of the series. I really recommend this!
Original Draft
In this corner, they displayed original draft of manga, illustration, photos for manga's background, etc. The original draft is drawn in a bigger paper than the comic books, so you will be able to see even the slightest detail of the works in the original draft. You can see the difference of outer lines, the expression of the character, the atmosphere of the background, etc. You can also see the mistakes which covered beautifully by the creator in the original draft (it is kind of hard to see it though). Looking at each original draft, you will be able to feel creator's effort, passion, and his message in his works.
Illustrations of Machines In The Manga
Illustrations of Machines In The Manga
Besides that, you can also see the illustration of machines, rockets, etc. Have you ever wondered why do these pictures seemed so real in the manga? Actually, you can find the answer in this exhibition. The creator of The Space Brothers, Chuya Koyama, deliberately went to JAXA and NAXA, took many pictures there and actually interviewed the astronaut and used their stories in his manga. All of his ideas are summarized in his memo. Not only that, there were also the exhibition of space machines' miniatures and miniatures of space shuttle.
Miniature of Machines
Draft of Animation
"Experience It Yourself" Corner
Going down from the 2nd floor to the 1st floor, you will find "Experience It Yourself" Corner. In here, there is a simulation of astronaut's admission entrance exam, and the simple rocket corner. Patience, knowledge, and simple no-gravity simulation, there are a lot of small corners here. Both of kids and adults can enjoy themselves in this corner.
Apo's Balloon
"Experience It Yourself Corner"
There is a message corner near the "experience it yourself" corner. This corner is a result of cooperation with Pocari Sweat company for a part off upcoming "LUNAR DREAM CAPSULE PROJECT" in 2015. Here, you have to write your own message, and this message will be sent to the outer space in 2015. You cannot see the result of this project immediately, but it really give exciting feeling for the participants!
Goods Shop
Goods Corner
Photo Booth
Goods shop is one of Japanese culture. You can find goods shop in almost every event in Japan. This exhibition is also the same. Before going out of the exhibition hall, you will go through the goods shop. You can find not only the goods related to the series, but you can also find goods that related to outer space and astronauts. You won't be able to find the goods here in normal shops, so you can even enjoy yourself by looking at the goods. Among these goods, you can also find the real white puzzle used in the admission test of astronaut's academy, space curry, space crackers, and astronaut's uniform, etc. White puzzle is a tool to train your patience; patience is one of the important factors of being an astronaut. For the admission test, you will be asked to complete the 204-piece white puzzle. Moreover, by buying the space curry, you will be able to try the real food which is consumed by the astronauts. In order to give the chance for children to be an astronaut, there is also an astronaut's uniform imported from USA.

That's all from the special exhibition of The Space Brothers. This series is not only an interesting work, but also has a lot of knowledge about outer space. I really recommend this series to you!