This time we want to take you to "Akihabara" STEINS;GATE Tour.
I guess all manga fun lovers overseas are familiar with the word "OTAKU".
This time I would like to add "Chu-ni-byo" in your otaku dictionary.
Chu-ni means the second year of the junior high school, that is to say, 13-14 years old. This is the period of adolescence. While children are going through the adolescence period, they create their own fantasy world, they become very stubborn in their own ways and start developing some complexes. However Chu-ni-byo people still have that adolescence problem even they have grown up. If you want to be able to use some special moves like x-mens, you believe that some evil organizations are trying to devastate your life, or one day a very cute girl who is dream of your life bumps into you and for no apparent reasons she falls in love with you, then you are suffering from one!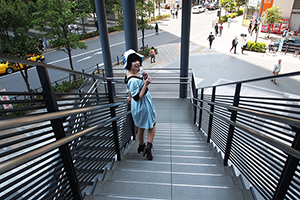 Reporter : Kakizaki Shundo


Summary
"STEINS;GATE" is science fiction.
The main character is a university student who is heavily suffering from Chu-ni-byo.
The story is set in Akihabara, where the place itself is the pit of Chu-ni-byo.
Yes, Akihabara is a chu-ni-byo town.

Information
<Access >
Narita Airport ¨@JR Narita express ¨@Tokyo@¨@JR Yamanote line ¨@Akihabara

Akihabara 1 Akihabara station
Let's begIn the tour from Akihabara station. This time we have cosplayers with us, Myushii and behind her could that be Rintarou Okabe? AKA Hououin Kyouma or Okarin. It is going to be an interesting trip for sure!
Akihabara 2 STEINS;GATE
Well, if you talk about STEINS;GATE the one thing you must not forget is the drink, Doctor Pepper! Because it prominently comes into STEINS;GATE you can get it anywhere in Akihabara.
Akihabara 3 Kanda Fureai bashi
This is "Kanda Fureai Bashi" the bridge appeared in episode 2. From there you can see Yanagimori Jinja Shrine where Rukako lives. There is JR Tohokul Bullet train running over the bridge.
Akihabara 4 Yanagimori Jinja Shrine
This is Yanagimori Jinja Shrine where Ruka is always cleaning up. When you go through the gate of the shrine, it has a very calm atmosphere. Of course you should make a prayer. Where is phantasmal retro PCEIBN5100 could be? This is in 2-25 sudachou, Kanda, chiyoda sector, Tokyo.
Akihabara 5 Mansei bridge
This is Mansei Bridge. This is the bridge where Chris Makise and Okarin carried IBN5100. It weighs about 23kg but allegedly quite light for a computer of that age.
Akihabara 6 Radio Kaikan
We have arrived at Radio Kaikan. However it is under renewal construction. This is where Chris Makise and Okarin first met, sate-light fell on the builidng and where everything about STEINS;GATE all started. This is only a one minute walk from Akihabara station.
October 2011, just before it was closed they simulated sate-light falling even. Even if it was just a fake sate-light STEINS;GATE fans are thrilled for this becoming reality.
[ Reference page]
http://www.famitsu.com/news/201110/28052733.html
Akihabara 7 Akihabara cross filed.
Akihabara Cross filed. A tower block right in front of the station is also a part of STEINS;GATE world.

4-14-1 Sotokanda, Chiyoda-sector, Tokyo
Akihabara 8 patio at UDX
Okarin fading into the dusk with Doctor Pepper in his hand. Patio at the UDX is also the location that comes into STEINS;GATE.
4-14-1 Sotokanda, Chiyoda-sector, Tokyo
Akihabara 9 Cafe Mai:lish
We have arrived at the "Cafe Mai:lish" where Faris Nyannyan works in STEINS;GATE. This is a famous long lasting maid cafe. There is STEINS;GATE related food on the menu, if you are a fan, you must go!
FH Kyouwa Square 2F
3-6-2 Soto Kanda,
Chiyoda-sector,
Tokyo.