This time I went to Asakusa, the stage for one of my favorite sports anime which was broadcasted in 2010, Giant Killing.
I was near Ochanomizu so I got on the train at Ochanomizu Station. Actually it didn't take much time to go to Asakusa (roughly 10 minutes) but, I got off at the wrong station. I was supposed to get off at Asakusa Station but I got off at Asakusabashi Station. So, I walked by foot till Kaminarimon for about 20-30 minutes. It was quite far. If you just want to visit Kaminarimon, you better get off at Asakusa Station.
Asakusa Temple appeared on episode 14 and 26. It was when ETU members give out leaflets of the curry party. When I went there, there was some kind of an event so it was really crowded. I was having a hard time taking pictures. By the way, the event is called "Shoubou dezomeshiki" You can search on Google if you want to know more about it.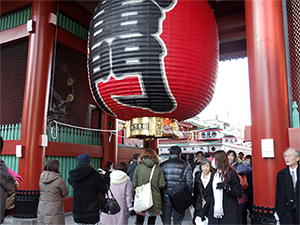 Reporter : TEDJA AGNES MICHELLE


Asakusa Temple is a famous temple in Tokyo so it was used in some anime and games. And you can also buy many things like yukata, small ornaments, snacks, masks, and others. On the picture you can see that there are Anpanman, Pretty Cure, Rillakuma goods there. I came here with other Indonesian people before but at that time most of them were concentrated in shopping and asked me to translate things for them so I didn't have any time to go inside the temple.
My teacher in Osaka told me that her friend was selling "Agemanjyuu" there(um…fried buns? *laughs) so I tried eating those. It was delicious. Although I couldn't really differentiate the fried buns and the normal steamed buns. By the way, I tried the custard cream and the Monjya flavor. (Monjya is a famous food in Tokyo, pretty much the same taste as okonomiyaki but a little spicier) Oh, but the popular one is the red bean one. I didn't like red beans so I didn't try that. I wanted to take a picture of the store but it was pretty much crowded every time so I couldn't.
If you compare the picture I took with the anime you can see big differences. Well, some things would pretty much change in these 4 years. Before, there weren't any vending machine there. It's the scene where the cheering party members weren't assembled and Shige-chan and Gorou were depressed about it.
There's a sign with "Don't feed the doves" written on it. The prove that I am in Japan *laughs At my country I rarely see this sign. That's why the doves in Japan are so lax. Even if they were about to be stepped on, they just walked on the ground peacefully.
From Asakusa Temple I walked to Sakurabashi (Sakurabashi appeared on episode 1 and 2). It's about 15 minutes by foot. From there, you can see the tall Sky Tree and the blue skies. And next to the bridge is the model of ETU's building, Taito Riverside Sports Center. It's quite big for a sport center. There is a pool, a tennis court, a marathon course, a baseball field. But to tell you the truth, I wouldn't even know that this place exists if I didn't watch Giant Killing. And, I was shocked when I saw the tennis court. There was a lot of people playing tennis and they were (excuse me) all elderly people! In my country people playing tennis are usually below forties….
The place where Tatsumi and Morikoshi had a conversation. Murakoshi : "I have staked myself for ETU all these 10 years!" Tatsumi : " Yes, that's why I had you removed from the captain position" Tatsumi-san is so cool!! That's just why Murakoshi agreed with him~ I took the pictures at 1 o'clock in the afternoon so the sun was so bright.
There was a seagull standing on the bridge. In the anime you could see many seagulls, now I know the reason. In this area there are lots and lots of seagulls.
After walking around that much, my legs were at their limits and so I went home. I walked back from Sakurabashi to Kaminarimon, and I crossed the big road in front of Kaminarimon. And there is the Tokyo Metro Asakusa Station. I went back home to Ayase Station (not Ochanomizu) so I took the Ginza Line and changed trains at Ueno for the Hibiya Line and lastly I changed trains at Kita Senjyu for the Chiyoda Line. Finally I arrived at Ayase Station.
Many people visits Asakusa Temple. From teens to elders, Japanese and foreigners. That's why it's always crowded when it's holiday season, especially New Years. But I didn't see many children there. Even though there are lots of anime goods, it's a shame that there are so few children. I recommend this place for Buddhists, temple enthusiasts, foreigners who want to buy Japanese yukata or snacks. And, people who like Giant Killing, Joshiraku anime, also people who like Kenka Banchou Bros game (because the scenery in the game really looks like the real Asakusa Temple and because I love that game too)