This time I went to Odaiba. The subway route I used is Ayase Station - Kokkai-gijidou mae Station – Tamaike sanou Station – Shinbashi Station – Daiba Station. There are other routes but, this is the most convenient one if you start from Ayase. When I arrived at Odaiba, the first thing I thought was that Odaiba is a beautiful place… but it was cold!! If you are a person who is not adapted to the cold like me, I don't really recommend if you go there in autumn or winter. It would be perfect in spring or summer.

The first thing you will see when you get out of the station is Nikko Hotel. And there is the Statue of the Liberty next to it. From there you can see the Fuji Television Building but, it wasn't open. I had to wait in the strong winds for 30 minutes. Before you enter the building, if you want to go to "Hachitama", you have to buy a ticket first. The ticket for adults is 500 yen and 300 yen for kids. You don't have to buy a ticket if you just want to take a tour in the building. And, if you take the guide book, you can join the stamp rally. When you get 5 stamps, you can get a prize!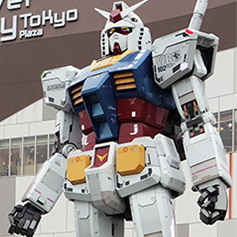 Reporter : TEDJA AGNES MICHELLE


Trivia :

1. In front of Nikko Hotel, there is Grand Pacific Hotel Le Daiba…. And inside, there is a Gundam room called "Project Room – G".
2. Fuji Television Building appeared on Digimon Adventure 1 and Lupan the Third.
The elevator started moving at 10 o'clock. You can buy souvenirs on the 7th floor. There are One Piece, Galileo, Nameko and many more souvenirs! And you can also eat lunch or dinner at Baratie (the one in One Piece, this is a limited event, so you better hurry up to go there~) It was…quite expensive… I went in to Hachitama without eating lunch. From up there, you can see the scenery of Tokyo and in fact you could see Fuji Mountain too but it was cloudy when I went there so I couldn't see it. There are many Minions inside of Hachitama! And I also met with Laugh-kun, the mascot of Fuji Television.
The 5th floor is called Kikkake Street. Here, you can see the studio real time. You are prohibited to take pictures of the studios here but there are so many things to see. There are Toriko and One Piece pictures everywhere.
The 1st floor is the Theater Mall. There are a lot of Café , convenience stores, and other stores. The one I like the most is Sazae san's shop. The custard flavor and chocolate cream flavor of Sazae san yaki and Tama yaki were delicious. They looked like the characters and it was cute~
I walked to Decks from the Fuji Television Building. Decks is one of the shopping malls in Odaiba. There are Madame Tussauds Museum and Joypolis, a SEGA theme park. But this time I went to Joypolis. The entrance fee is 800 yen and the entrance fee + ride as much as you like is 3900 yen. The night pass is cheaper. Look at the Joypolis homepage for details. There are a lot of attractions based on SEGA games! The most popular was Sonic. But, I had my eyes on Gyakuten Kenji attraction~ Edgeworth is so cool!
After that, I went back to the front of Fuji Television Building, rode the Tokyo Bay Shuttle Bus (It's free!), and got off in front of National Museum of Emerging Science and Innovation (Miraikan). The entrance fee for adults is 600 yen and 200 yen for kids under 18. It was great~ People who love robots and outer space should go here! And the one in the photo is the famous ASIMO.
Fujiテレビビルの向こうにあるDiver's Cityの前に大きいGundamが立っている。12時、15時、17時に動くので是非見てください。ここにもGundam Caféがあるよ。Behind the Fuji Television Building is Diver's City. And in front of it is a big Gundam. The Gundam starts moving at 12, 15, 17 o'clock. And there is also Gundam Café here too.
Then, it started to rain. When I thought it's time to go home, I was so bothered by Baratie. I went back to Fuji Television Building and I had lunch there. As a fan of One Piece, I could only say that "It was expensive but I won't regret it!". The food and the drinks were delicious (oh and the drink I ordered was Sanji's Blue Ocean), the mood was good and I could listen to Sanji's voice as well! It was so awesome!
After lunch, I walked to Daiba Station, I went back home, riding Yurikamome once again.
Summary :
Odaiba is a big place, this time I could only walked the half of it. It was beautiful, the air is good too. I went to Odaiba because I love Digimon and there was a One Piece event (I am talking about Baratie). There are tons of things related to Animes like One Piece, Toriko, Gundam. And there is a SEGA theme park too. If my friends came to Tokyo, I will definitely bring them here!
Trivia :
1. Odaiba appeared on Digimon Adventure 1 and 2, Patlabor, Lupan the Third, Guilty Crown, Tokyo Magnitude 8.0.
2. There are many Anime events too. For example, a Tiger&Bunny live, collab event of Nazomate and Madoka, a tie up event of Karneval.
3. Tokyo International Anime Fair 2013 was held in Odaiba and next year, 22nd March 2014 and 23rd there will be Anime Japan 2014 too!